Signs and symptoms of an OMD:
Thumb/finger/tongue sucking patterns
Breathing problems such as enlarged tonsils & adenoids, or allergies
Open mouth rest posture of the lips
Forward rest posture of the tongue
Weak lip muscles
Difficulty with chewing, gathering, & swallowing solids & liquids
Malocclusion
Orthodontic relapse
Speech Disorders
Tongue-tie (Ankyloglossia)
Someone who always breathes through the mouth or has difficulty breathing through the nose.
Limited tongue movement. Drooling, especially beyond age 2. Difficulty closing the lips to swallow An overbite, underbite, and/or other dental problems.
The tongue pushes past the teeth, even when a person is not talking or using the tongue.
Difficulty saying some sounds, like "s" in "sun," "sh" in "ship," or "" in "jump."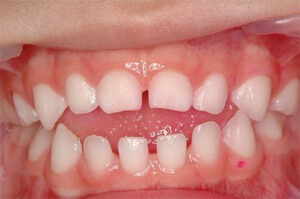 Orofacial Mvofunctional Disorders (OMDs) are defined by abnormalities of the muscles and the functions of the face and the mouth that negatively impact normal growth, development, and/or function. These abnormal patterns can impact speech, breathing, swallowing, chewing, sleeping, dentition, and more. Children, teens, and adults can benefit from treatment.
When should therapy begin?
We can begin treatment as young as four to five years of age. When a medical, dental and/or thumb sucking concerns cause changes, intervention may begin at an earlier age. But it's never too late! Children, teens, & adults of all ages will benefit from therapy & experience success.
A diagnostic evaluation will identify the underlying problems and allows us to determine if therapy is recommended.